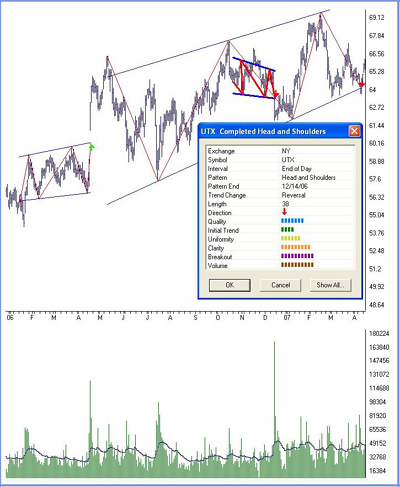 Completed Head and Shoulders on UTX inside a completed Channel Up. A previous completed Channel Up is also visible
Patterns downloaded each night with your regular price data



Chart patterns are split into two main sections. Complete patterns list the pattern occurrences that have broken through either the support or resistance lines. Emerging patterns list the patterns that have not yet broken through, giving you an opportunity to be pro-active in opening a position on the market.

The following chart patterns are available


Ascending and Descending Triangle
Triangle
Channel Up and Down
Falling and Rising Wedge
Rectangle
Head and Shoulders
Triple Top and Bottom
Double Top and Bottom
Flag
Pennant


Currently the chart pattern engine tracks the Russell 3000 stocks, and many ETFs.