The 2018 updated SP500 Group and Sector structure for TradingExpert Pro is now available
with all the latest group and sector changes through Decmeber 2018
AIQ TradingExpert Pro was FINALIST

"Best Artificial Intelligence Trading Software"

again in 2018 by readers of S&C Magazine
---
---
TradingExpert Pro
powered by eSignal/IDC data
Learn more and download our 30-day FREE trial
---

Traders World Review
"....The charting function of the trading software is excellent. It is no wonder that Dan Zanger likes it....easy to use interface....on-chart indicator library with a Color Barometer to give you an instant indication of the status of each chart..."
Larry Jacobs, Editor Tradersworld magazine


Stock Trading Software Reviews
"....The system is very cheap at around $80 per month with so many amazing features. The user interface is very professional and one can find relatives of a stock in the group and sector tree easily and create baskets of symbols and run studies on those baskets... "



Stocks & Commodities Magazine Review
"....the screening language is far less difficult than the programming language used with many other technical analysis software programs..."
David Penn, Staff Writer at stocks & commodities magazine


Money Management Made Easy Review
"....They offer a free trial so you can test drive the program and see if itís right for you. But be aware this one is for serious traders who know a little something about the market... but its features are incredible. ..."

Options Hunter 2-day seminar Orlando, FL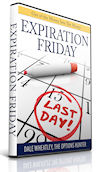 Options Expiration All day sessions
Friday February 8, 2019
Friday February 22, 2019
LEARN MORE
Physics of the Market
Invest 60 Minutes to learn how the Physics of the Market makes the MACD a Profit Machine
HALF PRICE thru 12/31/18 use coupon PHYSICS50
LEARN MORE